USD Deposits & Withdrawals
Wire Transfers: Paxos will credit your wire deposit as soon as it has been received by our bank. Note that your deposit will be returned if there's missing and/or incorrect information in your wire instructions.
Domestic wire withdrawals are processed via the FedWire system and may take 30 minutes to 2 hours to settle. International wire withdrawals may take 1-5 days to reach the beneficiary bank..
ACH Transfers (US domestic only): Credited to an account instantly 24/7, but will be settled on a T+2 basis during regular US banking hours. *ACH withdrawals coming soon!
SEN Transfers: Processed 24/7 with immediate execution, SEN Transfers are not subject to any limits.
*Weekend & Holiday Schedule: Note that USD wire transfers are not processed on weekends & on US banking holidays. ACH & SEN transfers are processed 24/7.
Digital Asset Deposits & Withdrawals
Please be aware that these are guidelines only and not intended to be SLAs with customers.
Deposits: All digital assets are credited to your account once it receives the appropriate amount of confirmations on the blockchain. You can see the confirmation requirements in the chart below.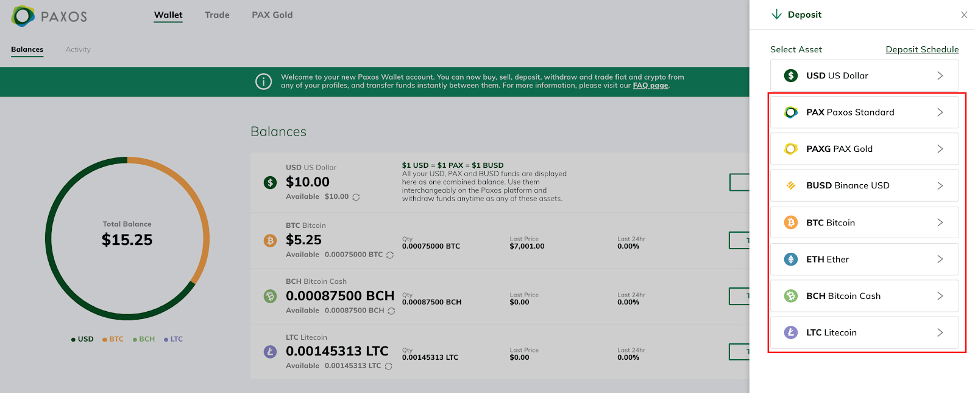 Digital Assets Confirmations Requirements
| | | |
| --- | --- | --- |
| Digital Assets | Confirmations Required | Estimated Time |
| Bitcoin (BTC) | 3 confirmations | 30 minutes |
| Ether (ETH) | 12 confirmations | 3 minutes |
| PAX/BUSD/HUSD | 12 confirmations | 3 minutes |
| PAX Gold (PAXG) | 12 confirmations | 3 minutes |
| Bitcoin Cash (BCH) | 15 confirmations | 2.5 hours (150 minutes) |
| Litecoin (LTC) | 12 confirmations | 30 minutes |
Withdrawals: Processing schedules are outlined below:
All ERC20 & ETH assets: Generally broadcasted within 20mins for withdrawals to previously confirmed wallet addresses

BTC: Generally broadcasted within 45 mins for withdrawals to previously confirmed wallet addresses

BCH & LTC: Processed twice a day. Weekend withdrawals are currently not supported for these assets. Please find weekday processing times listed below in EST:
*These times are for a specific batch so take note that the processing time of these transactions will typically be within 1 hour of the batch initiation.
Holiday Schedules: Digital asset withdrawals may be processed at limited capacity during observed US & Singapore national holidays. Digital asset deposits are unaffected.