Important things to note:
Note: Wire deposits are only available for Institutional accounts at the moment. For individual accounts, we currently only accept Digital Asset (Crypto) deposits to your Paxos account. Please refer to How to Fund Your Account with Digital (Crypto) Assets for more information.
Please note that only FedWire or SWIFT transfers are allowed. Any funds sent via ACH cannot be received.
You must include your Account Identifier when sending your wire transfer. Failure to do so will lead to delays in funds being credited, and the deposits may be rejected.
We can only accept wires that come from the bank accounts with the same name as the register Paxos account owner. (3rd party deposits will be automatically denied)

Please confirm with your bank the name on the wire before sending a deposit to your Paxos account to ensure expedient crediting to your account.

Domestic Wire transfers may take 1-3 business days to arrive.
International Wire transfers may take 3-5 business days to arrive.
How To Wire
In order to get the necessary information to submit a wire transfer to your Paxos profile you will need to sign in to your paxos.com account.
Deposit
Once logged in, in the top right corner of your screen you will see Deposit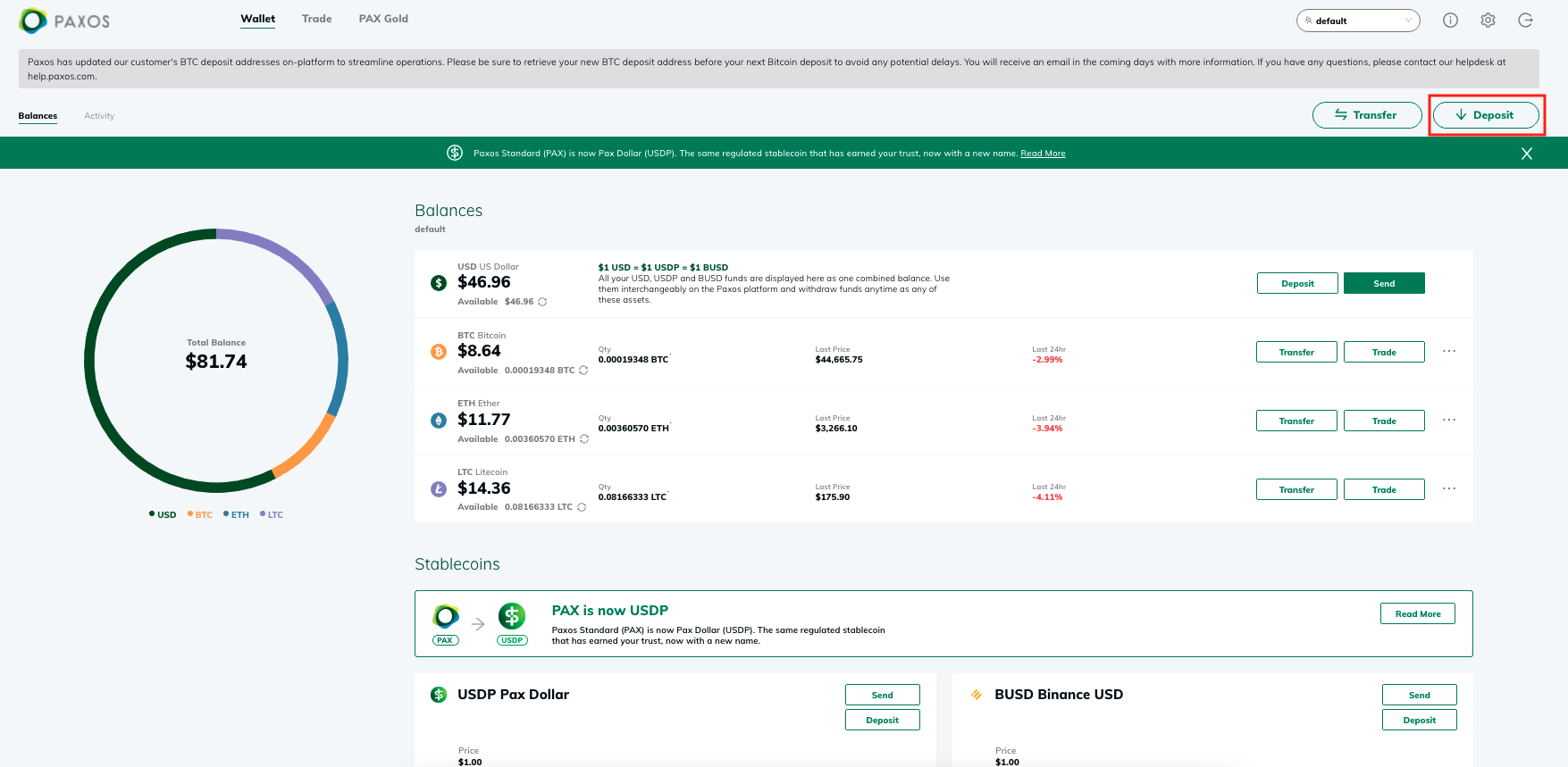 Select USD US Dollars which will bring up the wire deposit instructions.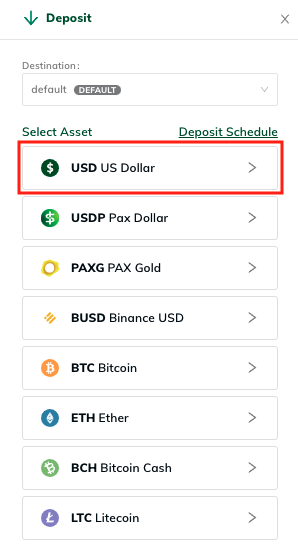 Double check to make sure you have USD US Dollar selected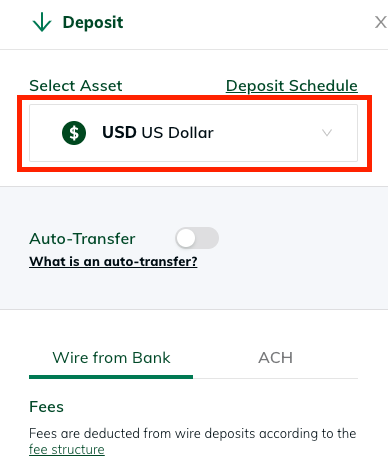 Scroll down and you will find all of the important wire information:
Make sure to include your

Account Identifier

in your wire instructions to avoid any delays in receiving your funds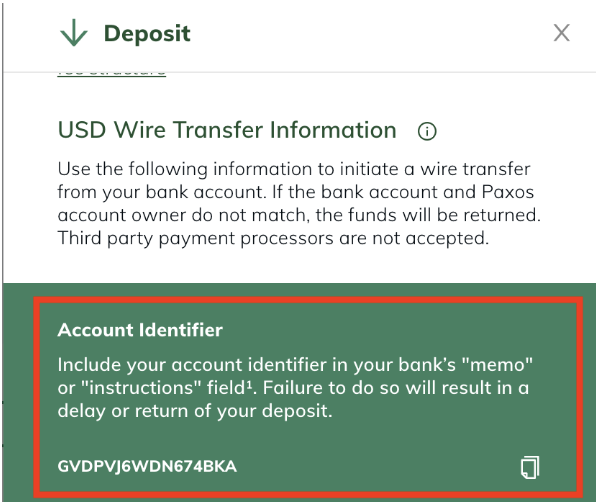 Include the Account Identifier in a section of the wire instructions labeled Message to Recipient (please note all banks use slightly different language to label this section). If you are unsure where to include the Account Identifier please contact your bank for additional support about where you should include this information.
For information on auto-transfers, you may refer here
Deposit Fees
For US Domestic wires, there is no deposit fee charged
For International wires, there is a $30 USD deposit fee being charged
If your wire goes through an intermediary bank, the intermediary bank may charge a fee, please check with your bank should you wish to know more about fees from intermediary banks.
View our deposit fee schedule here.
Common causes for USD deposit delays:
Outdated deposit instructions: Please update bank transfer details in your remitting bank to include the most recent deposit instructions
Missing/Incomplete Transaction Account Identifier: All deposits received without your full Account Identifier will need to be manually verified and credited. Please take note to include the transaction Account Identifier on all wire & CBIT deposits. Please see here how to find your Account Identifier.
Incorrect Payment method: Only FedWire and SWIFT payments are accepted. If your funds were sent via ACH, it cannot be received.
Incorrect Wire Details: You may have included incorrect wire instructions that can impact delivery time and result in delayed processing.
Submission Time: For both domestic and international wires, cutoff times impact when you will receive your deposit to your Paxos account
Third-Party Deposits: All third-party deposits will not be accepted & will be returned to the originating bank. We do not accept deposits from third-party payment processors (i.e Transferwise).
If your wire deposit is missing, please submit a request here