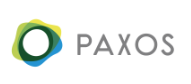 Here's a quick guide on what you need to know about our platform to get started:
1. How can I fund my account?
You can fund your Paxos account with either USD ur supported crypto assets.

Please visit our help center for more details on our fees, limits and schedules. Please note that we provide Maker rebates going up to -3 bps.
Funding with Supported Crypto Assets
Kindly note the supported crypto assets:
USDP/BUSD/PYUSD
PAXG
BTC
ETH
LTC
BCH
AAVE
UNI
LINK
MATIC
For PAXG, USDP, BUSD and PYUSD we only support ERC-20 based tokens at this time. Please be very careful when depositing crypto to your Paxos account.
To fund your Paxos account with supported crypto assets, please follow these steps.
2. Frequently Asked Questions
1. Can I add access for Multiple Users to my Paxos account?
2. How can I update my Institution's name?
3. How can I get access to your Trading & Market Data APIs?
4. How can I request a Tax Form?
5. How can I transfer my assets out of Paxos?
3. How can I ask for help?
First, go to the Help Center and search for the key words related to your inquiry:

If you cannot find the answer you were looking for, simply reach out to our team by clicking on "Submit a Request" at the top right corner of the Help Center page.