How to Add MFA to My Account
Please follow the below steps to obtain MFA authentication code:
On your smartphone or tablet, install Google Authenticator, Authy or Duo Mobile.

On www.paxos.com, log in to your Paxos account.

Use the authenticator app on your phone to scan the QR code on your screen OR Input the verification code generated below the QR code into your authenticator app and click OK.

Save the verification below the QR code in case your device is lost or stolen

On your Paxos account page, enter 6 digit code from your authenticator app (no spaces)​ & enter a device name of your choosing (i.e. iPhone)
We strongly encourage having MFA on your mobile device (i.e. cellphone, tablet) for security reasons. However, you can also install a desktop version of Authy.
Adding Multiple Devices or Transferring Your MFA Connection
You can connect multiple devices to your Paxos account by visiting your account "Settings" and going to the "MFA Management" subtab. You will need an existing device to add any new devices to your account. Once a second device is added, you're free to disable your original connection.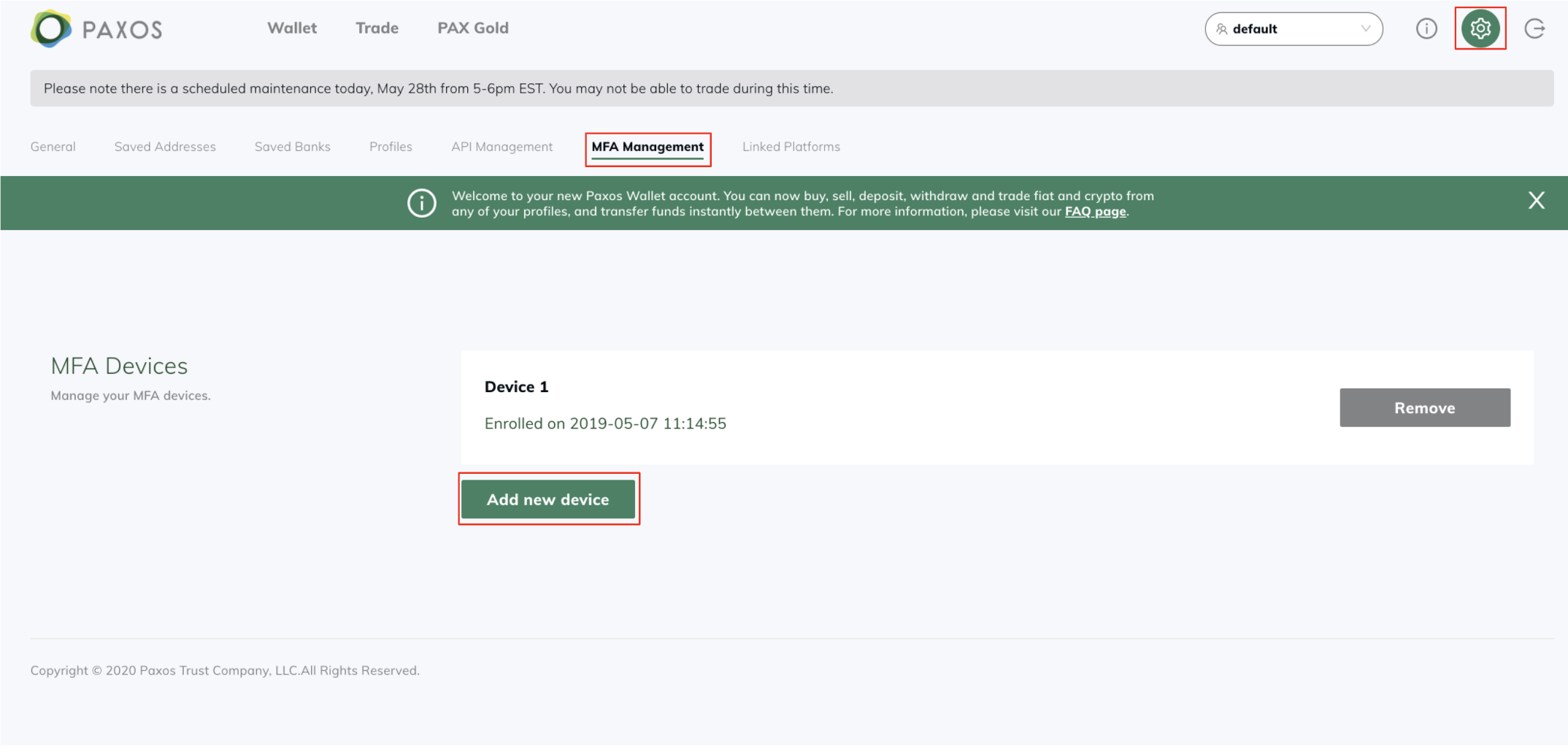 How To Reset MFA on My Account
In order to disable your MFA device, please submit a support ticket with the subject line: "Disable MFA."
Troubleshooting MFA Issues
If your MFA is not syncing or not accepting your pin ID, please try the following troubleshooting tips:
Ensure you are entering the code before the code times out or refreshes

The code you are entering is a 6 digit code with no spaces

Your device is using automatic time settings (most likely case for Android users)
If these troubleshooting tips do not resolve your issue, please submit a support ticket to disable your MFA device and add a new one.